Spec'd or Bust: Managing Trucks that are Built to Last
May 10, 2018
A good service truck is a bit like a good hunting dog, according to Ron Nuss, head mechanic at Northwest Excavating, Inc. "You can run them ragged all day and they'll still be there for you."
The equipment rental and underground dry utility contractor company in Northridge, California, knows a thing or two about working a service truck hard. They bought their first truck body in 1977 — a utility mechanics body from Iowa Mold Tooling Co. on a Ford L-600 gas powered truck.  
If you step out in the yard at Northwest today, that same IMT '77 mechanics body is there — on its sixth chassis.
Over the years, the company has lavished the same care and attention they dote on their rental fleet on their service equipment. Northwest has cultivated a legacy as a respected operated rental and dry underground utility contractor, and its secret is simple: strong customer loyalty and astute company management. While a strong business plan and steady growth has enabled Northwest to serve customers since opening in 1959, it wouldn't be able to do so without the attention to detail the service department puts into maintaining its fleet.
"We're very particular about keeping our equipment nice," said Nuss. That means parts are replaced and repaired right when an issue is detected, and the service trucks are specified to each individual mechanic's needs. With four mechanics on staff, each technician is involved with ordering his truck. "We buy the right trucks and spec them to each mechanic's exact needs," said Nuss.
A place for everything and everything in its place
Organization is practically the slogan of the service department. Howard Groff, the founder of Northwest, was always very particular about keeping the equipment maintained and the tools organized. His son Robbie Groff, who now runs the company, is keeping that tradition alive. "When you have everything in order and in its place, you can get the job done faster," said Nuss.
With labeled drawers and neatly arranged tool compartments, organization is a shared value among the team. "I think there's a lot to say of having all your tools right where they should be," said Nuss. While neatly organized trucks certainly look good, they also allow each mechanic to assist with a repair without rummaging around for tools. "We like to do things right and being organized lets our team be efficient and productive on the job site," said Nuss. "No one is digging through a five-gallon bucket looking for a specific bolt. There's a drawer for each size." 
Spec'd to Fit
With steady company growth, Northwest recently needed to order a new truck for mechanic Robert Lugo. The company worked closely with Lodi Truck & Equipment in nearby Sacramento, California, to ensure the truck they ordered was built to address the mechanic's particular needs. The team landed on an IMT Dominator and specified certain options the way Lugo wanted them. They went beyond the standard options and extended the cabinets three inches to accommodate the lube reels and placed the power pack above the oil tanks they fabricated to allow more room in the bed of the truck. 
Once the truck arrived at Northwest, Lugo was given plenty of time to move into his new truck, assisted by fellow mechanic Angel Plascencia. "We all take pride in our trucks," said Nuss. "Robert is so dedicated he came down on a Sunday to tinker and finalize things just how he likes them, making sure every tool was where he wanted it.
The right truck for the job
While Lugo's truck is still shiny, new and equipped with the latest technology, it's parked right alongside that first 1977 IMT utility body in the Northwest yard — yet another testament to the pay-off reaped from organization and meticulous care.
"It's really a testament to not only the quality of IMT products in general, but also what you can do when you simply take care of your tools," said Nuss. "If you find a reliable partner that will work with you to build the truck you want with quality materials, all you need to do is maintain it — and it'll last as long as you need it to.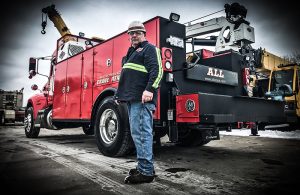 The crew at All Erection and Crane Rental in Cleveland only trusts trucks with the red diamond. Find out why.
Read More »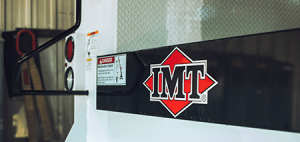 Check out how IMT has helped QT equipment establish itself as a premier field service truck supplier.
Read More »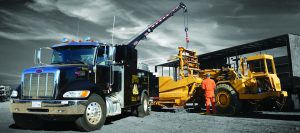 Hear why Wade's Heavy Equipment only relies on IMT service trucks and cranes. Contact us to discuss how an IMT mechanics truck can help you get the job done too.
Read More »