Mechanics Truck Gives Farm Productivity a Lift
September 26, 2017
Questions to consider when choosing a truck for agricultural applications.
Construction or farming? Virginia's Jamie Lee spent his working life with one foot in each industry before committing to farming full-time a few years ago. A major factor in his decision was the desire for independence.
"That's one of the reasons I liked farming (better)," said Lee. "I like doing what I can do myself, and then I can do it like I want it done. I enjoy that."
Such freedom comes saddled with its own set of challenges, however. Tending to 1,300 acres with only the help of his father, Jimmy, Lee can't afford any excess downtime. That's why the grower of corn, soybeans and cotton has relied for years on a "shop on wheels" – a maintenance truck featuring a telescopic crane –on the family's Flaggy Run Farms in Courtland, Va.
Like an increasing number of do-it-yourself farmers, Lee considers a quality maintenance truck vital to his productivity. Here are some questions Lee asked himself – and you should consider – before selecting a maintenance truck for agricultural applications:
What are my intended uses for the truck?
Lee hoped to be able to minimize downtime by bringing the shop to a broken-down piece of equipment rather than spending valuable time transporting the machinery to the shop and back. He also wanted a crane that enabled him to single-handedly change dual wheels on tractors and place pumps.
"That crane does what two or three other helpers would do," Lee said.
What size and features do I need?
After a thorough search, Lee chose an Iowa Mold Tooling Dominator I with an 11-foot body and loaded it with a hydraulic crane, a hydraulic air compressor, a welder, a 200-gallon fuel tank and other tools necessary to complete a wide variety of chores in the field. The crane features a 20-foot horizontal reach and 7,500-pound lift capacity, making it ideal for changing wheels and maneuvering pumps.
"We pretty much can do everything with one truck," said Lee.
How much time and money could a truck save me?
Jimmy Lee has not done the math, but he saw the value in a maintenance truck long before he retired from highway construction and joined Jamie on the farm in 2006. More than two decades ago, the elder Lee acquired a Dominator to serve as the primary maintenance truck for his construction business. It was so effective that he lent it to Jamie for use on the family's farmland until Jamie purchased a new Dominator in late 2009.
"Once we got spoiled by that crane and its ability to lift things like transmissions out of a bulldozer, we felt like it would be good at making repairs to these big tractors and combines in the field and also handling irrigation pumps," Jimmy Lee said. "Then if you have a breakdown in the field, you've got all your tools in the truck. Basically, you can take the shop to the field with you," said Lee. "Time is money. Naturally, it makes us more efficient. I can't sit down and tell you what percent more efficient it makes us, but we think it pays for itself."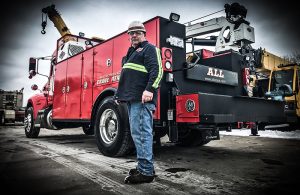 The crew at All Erection and Crane Rental in Cleveland only trusts trucks with the red diamond. Find out why.
Read More »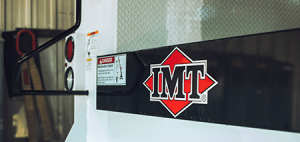 Check out how IMT has helped QT equipment establish itself as a premier field service truck supplier.
Read More »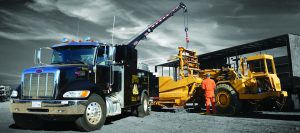 Hear why Wade's Heavy Equipment only relies on IMT service trucks and cranes. Contact us to discuss how an IMT mechanics truck can help you get the job done too.
Read More »