Essentials of Field Maintenance
October 31, 2017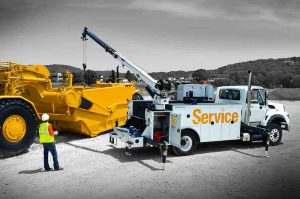 "A field technician can do it all," says Tom Wallace, sales manager at Iowa Mold Tooling Co., Inc. "They're probably some of the most talented people in the world — complemented only by their service truck."
A field technician's skills are useless if they aren't equipped with the right tools, an appropriately sized crane for the job, and the lighting they need to accomplish their round-the-clock work. Ensuring your field techs have the resources they need on their service truck is imperative to minimizing your downtime and improving operational efficiency.
While every customer's needs will be different, from the size of the crane to the tools they need on hand, here are some basic components of field maintenance that every operator should consider.
You never know what you'll see in the field
On a job site, field maintenance will range from routine check-ups to unforeseen repair needs, and a well-equipped service truck will anticipate those needs. "We have customers who often handle big road projects out away from town, and the field tech will go out early every morning to do a walk-around on each piece of equipment," said Wallace. "They'll check all of the fluid levels and perform any necessary repairs so by the time the operator of that equipment shows up that day, the equipment is ready to go. There's no downtime for the customer."
On that same job site, an unexpected problem with a piece of equipment could translate to delays if the field tech isn't prepared with the right tools. "If one of the tracks on a crawler isn't running correctly, or a bearing goes out, the field tech needs the ability to get there quickly, have the necessary part with him, and use his service truck, his tools, and his crane to pull that bearing or that track off and replace or repair it immediately. If he's prepared, he can get that equipment back up and running again, and the job site continues to operate," said Wallace.
Handling repairs in the field gets operators back to work faster, but more importantly, it relieves the stress and cost of finding ways to transport the sidelined equipment to and from the job site.
Servicing compact equipment vs. Heavy Equipment
When handling compact equipment repairs in the field, a smaller service truck with a nine- or eleven-foot body will suffice. Working on compact equipment does not require the same crane size as heavy equipment operations, but easy access to lube tanks may be a higher priority. "The guys I work with like to carry some oil and hydraulic fluid, so they can go out and top off tanks if a hose leaks or breaks," said Wallace. "They can replace the hose and immediately fill the fluid levels back up to get the equipment going again."
Lube skids, like those IMT offers, are a good option for operators working on compact equipment. A more permanent solution would involve mounting a small tank with pumps in the back of the service truck.
On the other side of the spectrum, servicing heavy equipment in the field will require a larger version of most service truck components. Technicians will need to carry bigger tools and more parts to service the wide range of units, which dictates a larger body— at least 11 feet and up to 14 feet. "Everything is increased in size," said Wallace. "And while bigger isn't always better, you're often dealing with awkward, heavy equipment that will necessitate things like a 10,000-pound crane and an 80 cfm rotary compressor."
Equipping the technicians with a bigger service truck will make field repairs on heavy equipment possible. "You can't always get right next to the piece of equipment," said Wallace. "You may have to be 15 feet out to get a hold of it, and a bigger crane allows you more reach and ability to lift at that extended reach."
Dealing with oil
Customized sizing on extraction pumps for waste oil and waste oil storage is incredibly important to many field service technicians. "At IMT, we make sure to determine how much clean oil a customer will need, and then size the extraction pumps to fit their needs," said Wallace. Disposing of waste oil properly is imperative, and since the waste oil storage tank is often the biggest tank on the truck, choosing the right-sized and equipped tank is paramount. "We use high volume pumps to extract the oil, because the last thing you want to do is wait while the oil is draining," said Wallace.
Taking the time to customize your lube dispenser can ensure reliability on the job site and offer innovative options for technicians as well. While air pumps are primarily used for running waste oil, hydraulic pumps are more conducive with clean oil since they offer more sensitivity to contamination and are a more robust pump. The pump nozzles can also vary greatly, from simple on/off pieces to nozzles that provide a readout while being pumped. For seamless tracking of oil use, an electronic nozzle can sync with your laptop and bill the customer for the oil and fuel in real time. Just minutes after you're done pumping, the customer receives the invoice.
Lighting up the night
Next to an air compressor, lighting is the second most important tool on any service truck, especially in the field. "Field technicians don't work 9 to 5," said Wallace. "They're out there in the middle of the night making repairs, so lighting is all-important."
The advent of LED lighting has helped many technicians perform maintenance in the dark, as have trucks thoroughly equipped with lighting options. "One of the things we implemented on our series three cranes is boom tip lights," said Wallace. The unique to IMT feature is quickly proving itself to be the best light tower a technician can have. "Instead of having to pull out a trouble light and cords, the tech can deploy the crane directly out over their work area. Instantly, they have LED lighting right over their job."
Field service maintenance ensures that the foundation of every job site operation — the equipment — is always up and running. A service truck customized to the application and equipped with all the necessary components keeps the equipment in the dirt making money. "Field service techs are good at thinking on their feet; they're the masters of the job site," said Wallace. "Our equipment is the tool they need to make their jobs better, safer, and easier."
---
More IMT Job Stories >>Request Equipment Quote >>