IMT Invests in Efficiency, Installs New Laser Cutting Machine
February 27, 2018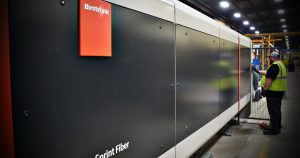 Iowa Mold Tooling Co., Inc. (IMT), an Oshkosh Corporation company (NYSE:OSK), is pleased to announce the installation of a new laser cutting machine as part of an initiative to improve efficiency while putting the customer mission first.
"IMT is committed to delivering quality products for our customers — both in the end result and in the manufacturing process," said John Wacker, manufacturing engineer. "Investing in equipment that improves productivity allows us to position ourselves as a better partner for our customers."
With a dramatically faster cutting speed than the previous machine, the new equipment will cut steel for all of the IMT product lines, including its portfolio of Dominator® service trucks and articulating and telescopic cranes. Equipped with leading-edge technology, the new laser cutter was selected as part of an effort to improve the first operation as a whole, including ergonomics, visual management, and material handling strategies as well as the overall operations layout.
"This laser is faster, more cost-efficient and requires less energy to operate," said Wacker. "It's all-around a better machine, which means our operations will improve across the board — allowing us to pass along those efficiencies to our customers."
Installing the new laser eliminates previous maintenance issues with the old technology, in turn eliminating downtime. Implementing the new laser technology will have a ripple effect on productivity across the company, further improving dependability, throughput, and overall efficiency throughout IMT.
For more information on IMT, visit http://www.imt.com/. IMT is on Facebook at http://www.facebook.com/iowamoldtooling, Instagram at www.instagram.com/iowamoldtooling, Twitter at http://www.twitter.com/iowamoldtooling and YouTube at http://www.youtube.com/iowamoldtooling.
About IMT
Iowa Mold Tooling Co., Inc., an Oshkosh Corporation [NYSE: OSK] company, began in 1961 as a business providing new tread designs for recapping tires. The company has grown to become the leading manufacturer and supplier of service vehicles, cranes, hydraulic loaders and air compressors for tire, mining, construction, material handling and utility markets around the world. For more information, visit www.imt.com.
About Oshkosh Corporation
Founded in 1917, Oshkosh Corporation is 100 years strong and continues to make a difference in people's lives. Oshkosh brings together a unique set of integrated capabilities and diverse end markets that, when combined with the Company's MOVE strategy and positive long-term outlook, illustrate why Oshkosh is a different integrated global industrial.  The Company is a leader in designing, manufacturing and servicing a broad range of access equipment, commercial, fire & emergency, military and specialty vehicles and vehicle bodies under the brands of Oshkosh®, JLG®, Pierce®, McNeilus®, Jerr-Dan®, Frontline™, CON-E-CO®, London® and IMT®.
Today, Oshkosh Corporation is a Fortune 500 Company with fiscal 2016 sales of $6.28 billion. Powered by 13,800 dedicated team members, Oshkosh has manufacturing operations on four continents, and its products, recognized around the world for quality, durability and innovation, can be found in more than 150 countries around the globe.  As a different integrated global industrial, Oshkosh is committed to making a difference for team members, customers, shareholders, communities and the environment. For more information, please visit www.oshkoshcorporation.com.
®, ™ All brand names referred to in this news release are trademarks of Oshkosh Corporation or its subsidiary companies.
Forward Looking Statements
This news release contains statements that the Company believes to be "forward-looking statements" within the meaning of the Private Securities Litigation Reform Act of 1995. All statements other than statements of historical fact, including, without limitation, statements regarding the Company's future financial position, business strategy, targets, projected sales, costs, earnings, capital expenditures, debt levels and cash flows, and plans and objectives of management for future operations, are forward-looking statements. When used in this news release, words such as "may," "will," "expect," "intend," "estimate," "anticipate," "believe," "should," "project" or "plan" or the negative thereof or variations thereon or similar terminology are generally intended to identify forward-looking statements.
---